Fourth Element Argonaut 2.0
Pre-Order
If you are looking for an item that we do not have in stock, we can Pre-order it for you from the manufacturer. This is called "special order". Special orders are final sale and non-refundable.
Flat Rate Shipping
Shipping in Canada is $15 flat rate. No surcharges and no more to pay!
Estimated to be delivered within 5 business days
Size Chart
Argonaut 2.0
The Argonaut 2.0 drysuit uses the award winning BIOMAP® system to create a bespoke pattern unique to the diver.

At the heart of the pattern development was the quest for improved mobility, stronger construction, greater streamlining, easier gas management, lighter weight and easier donning and doffing, but most importantly, the introduction of improved men's and women's patterns that fit beautifully. This system, coupled with our online ordering platform allows complete control over suit design and specification. You can customise your wrist seals, neck seals, dump/inflate valves, boot type, pockets and P-valves to tailor the suit to your needs.

Each suit comes with Argo Dry Bag , Changing Mat and choice of neoprene hood . Also includes talcum powder, field repair kit, drysuit feed hose and silicone zip lube.

Achieves European Standard EN 14225 - 2: 2005 for Drysuits in accordance with EU Directive 89/686/EEC.

Users include: Long Beach Fire Department, British Special Forces and US National Park Service.
Neck
HD latex neck seal as standard, other options available
Neoprene warm-neck collar
Torso
Choice of Apeks or Si-Tech inflate and exhaust valves
YKK Aquaseal zipper with protective outer
Cross-chest entry, maximising flexibility and ease of donning and doffing
Telescopic torso design allows maximum range of movement Internal adjustable braces Elasticated adjustable crotch strap
Wrists
HD latex wrist seals as standard, other options available
Legs
Two large thigh pockets (one or none also available)
Wetnotes sleeve inside each pocket
Bungee loops and steel D-ring in each pocket
Additional small zipped pocket on pocket flap
Secure hook and loop fastening
Reinforcements
Duratex panels reinforce key wear areas including shoulders, elbows, knees and seat
Flat seams are taped inside and out for strength and reliability
Duratex taping is used to protect the outer seams from abrasion
Boots
Choice of dryboots or neoprene socks, other options available
Reinforced at heel and toes for maximum strength and dexterity
Include ergonomic footbed to maximise comfort
Retaining ankle straps and adjustable hook and loop fastening
Step One : 3 Argonaut drysuits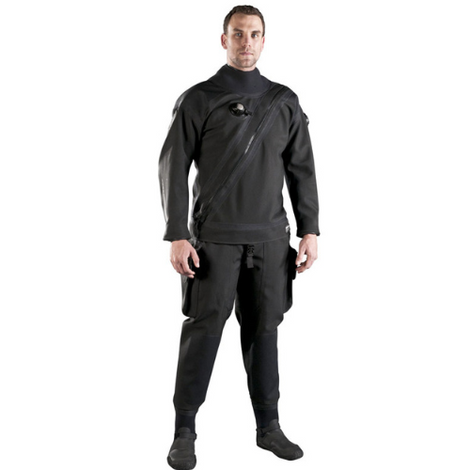 $3,599 CAD
Our Flex fabric is specially engineered for durability and comfort to create a rugged suit. Originally designed for military use, the fabric is laminated with a flexible butyl layer to provide protection without becoming rigid.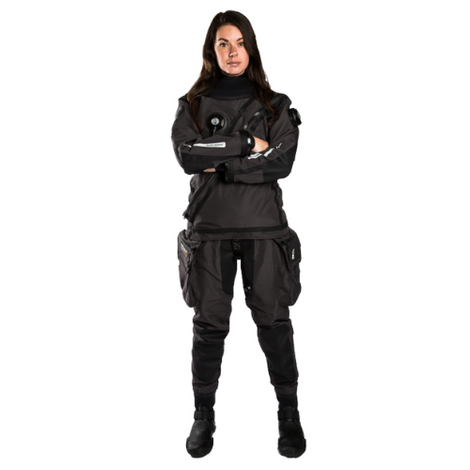 $4,071 CAD
Opting for our Stealth fabric means lightweight but hardwearing protection. The combination of stretch and lightweight durability gives unparalleled freedom of movement during your dive.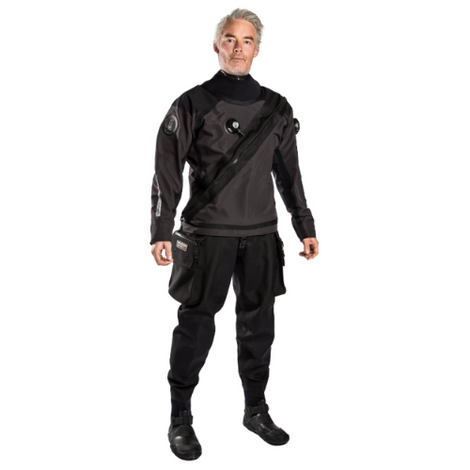 $4,071 CAD
The two fabrics can be combined to form our Hybrid suit with Stealth on the top and Flex on the lower half to provide outstanding mobility and durability.
Step Two : Wrist, Neck and Valves
Step Three : Boots, Hoods, Pockets and P-Valve