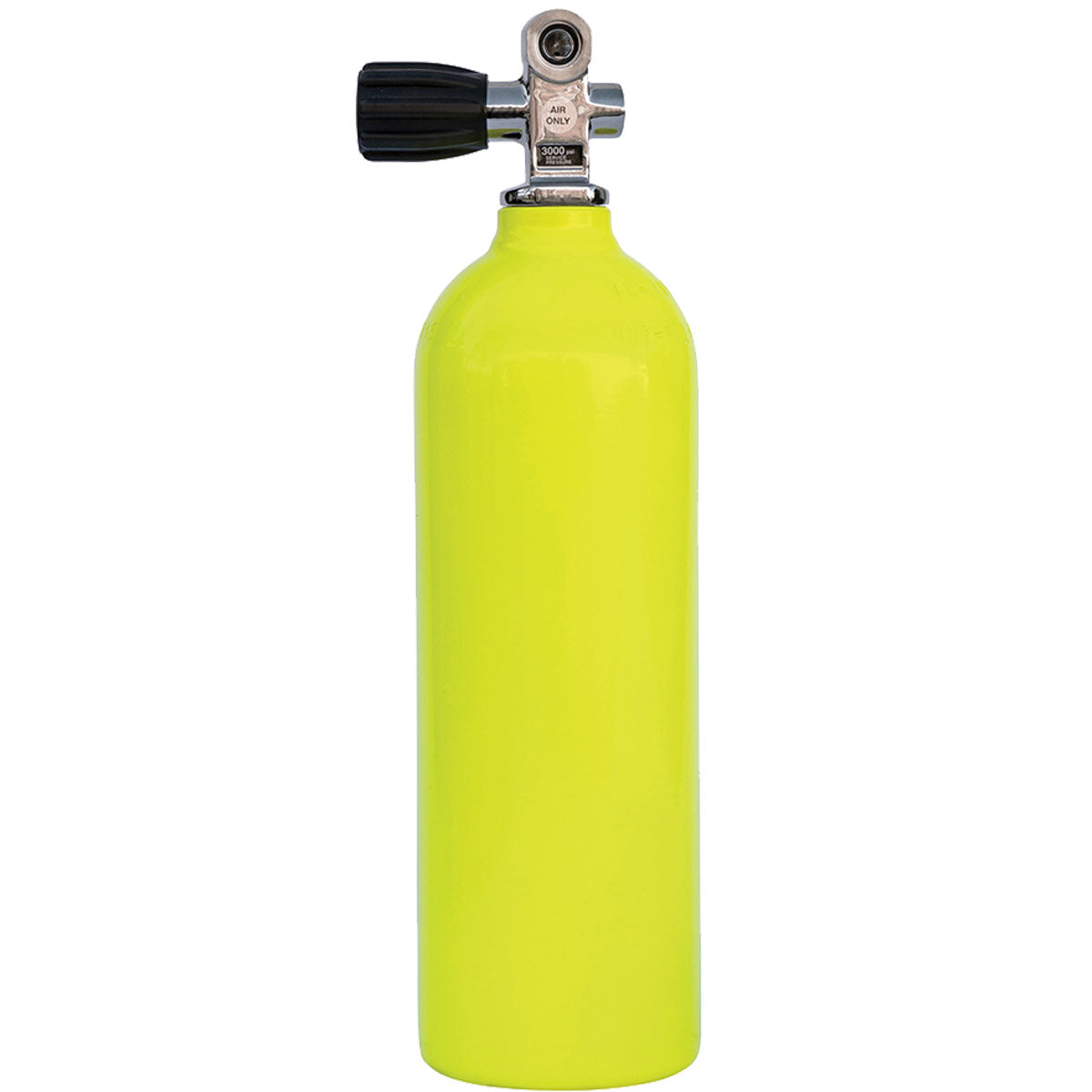 XS Scuba 13 cu. ft Aluminum Tank with Pro Valve Yellow
The XS Scuba Metal Impact Aluminum SCUBA tanks are durable, reliable, and visually appealing. The tank is manufactured from the industry standard lightweight, high-strength aluminum 6061-T6 alloy. The 13 cubic...
Pre-Order
If you are looking for an item that we do not have in stock, we can Pre-order it for you from the manufacturer. Shipping Usually takes 4 to 6 business days. Special orders can be exchanged but not refundable.
Flat Rate Shipping
Shipping in Canada is $15 flat rate. No surcharges and no more to pay!
Estimated to be delivered within 5 business days
30 Days Retun Policy
Learn More.
The XS Scuba Metal Impact Aluminum SCUBA tanks are durable, reliable, and visually appealing. The tank is manufactured from the industry standard lightweight, high-strength aluminum 6061-T6 alloy. The 13 cubic foot tank is an ideal volume cylinder for use as a pony bottle, redundant air supply system, bailout or short duration decompression/safety stop gas supply. A pony bottle is a smaller tank, which is carried in addition to the main tank. It possesses its own regulator with first and second stage and sometimes a separate pressure gauge. It is mounted either at one's side or in front of the body or fixed to the main tank. A pony bottle scuba tank is the only true redundant breathing mechanism you can completely rely on.
The 13 cubic foot pony bottle has a 3000 psi (207 bar) service pressure rating, a capacity of 12.8 cu. ft. (1.8 liters), is negative 1.1 lbs. (0.5 kg) when full and is negative 0.3 lbs. (0.1 kg) at 500 psi (35 bars). Cylinder weighs 6 lbs. (2.7 kg) when empty, and measures (Dia. x L) 4.4" x 12.7" (112mm x 323mm). Aluminum cylinders unlike steel cylinders don't rust, they oxidize. The oxidization of aluminum forms a protective coat that hinders the continuation of corrosion making aluminum cylinders less likely to be condemned due to excessive corrosion. When shipped the tanks valves will be removed and the tank will require re-inspection before being filled.
Note:
All Metal Impact Aluminum cylinders are nitrox ready up to 40% and meet certificated specifications of the US Department of Transportation (DOT) with DOT-3AL specification and Transport Canada Safety and Security (TC) with TC-3ALM specifications. Purchasers should check with other country requirements to know if the cylinders are certified for use in that country.
XS Scuba's Valves are designed and manufactured for long life and heavy use. The Thermo by XS Scuba Pro Valve is no exception. Valve is made of marine grade brass with triple bright chrome plating for long life protection in salt water. Precision machined from high tension brass and chrome plated valve stems for years of service and corrosion free operation. The high-pressure seat is nylon. The Pro Valve will accommodate both Yoke and DIN regulators with its removable 230 bar (3,336 psi) DIN insert which can be removed using a 1/4" hex key wrench.
Easy grip soft rubber hand wheel with stainless steel insert ensures long life and large ribs make turning handle easy even when wearing gloves. Valve bonnets are copper crush washer sealed. Valve is equipped with a one-piece safety plug, has a 5/32" hex wrench dip tube for positive retention and 3/4" x 14 NPSM inlet threads which fit nearly all DOT aluminum and modern steel cylinders. All this and more makes this the valve of choice for the serious diver. The valve has a 3000 (200 bars) service pressure. Valve is Nitrox compatible up to 40%.
SHIPPING POLICY
Shipping in Canada is $15 flat rate. No surcharges and no more to pay! Order anytime and as many products as you want for same day shipping on orders placed before 2pm PST.
Shipping fees to the Continental United States will be calculated at checkout. Extra shipping fees may apply when shipping to Alaska and Hawaii.
We ship 5 days a week, Monday through Friday. If your order is placed before 2 pm PST, your order will be shipped the same day. Order placed after 2pm will be shipped the next operating day. Order placed on Saturday, Sunday or on holidays will be shipped next operating day.
We always ship with Canada post using the expedited service. Delivery time depends on your location. Estimated delivery time will be available upon receiving your tracking information.
If you would like to upgrade the shipping service, additional postage costs will be applied. Please contact us with your request when placing your order.
Let us know if you need to receive your order by a certain date and we will let you know if we are able to accommodate your request.
If you have any questions or would like to discuss your order further, please contact our customer service at customerservice@divingsports.com or by calling +1 604 694-1886.
Return Policy
We care about your satisfaction. That is why returns to Diving Sports are easy! If you are dissatisfied with your purchase for any reason, you may return it to Diving Sports within 30 days of the purchase date, subject to the conditions and exclusions below.

If all conditions are not met, Diving Sports reserves the right to refuse the return or to charge a minimum 15% restocking fee.
All returned items must be in new condition, in their original unaltered box (including an intact PLU code) and must include all packing material, blank warranty cards, manuals and accessories. We can only refund or exchange products that have not been in contact with water or lube and are undamaged. All wetsuits that have been in contact with water or lube will not be accepted for a return.
Diving Sports is not responsible for mis-handling of products or ill-treatment of goods.
Diving Sports is not responsible for personal data or items left in returned merchandise.
Diving Sports is not responsible for any consequential or incidental damage resulting from the use of any merchandise bought from us including lost or stolen equipment.
Claims for missing items or items damaged in transit must be received within 7 business days of receipt of merchandise.
Securely pack all items that you would like to be returned.
All shipping charges are the responsibility of the customer if the return is not a result of our error.
If the return is a result of our error (you received an incorrect or defective item, etc.), please send us an email explaining the situation and ask for a return label.
If your return is not the result of our error, we can still provide a return label and the shipping cost of that returned item will be deducted from your refund.
Please note that the return label pricing is different from our standard shipping rate
Please include the following with your package:
All items must be returned in original/unused condition.
Unless an item is defective, if you would like an exchange, our standard freight charges apply to send you the exchange, unless you provide a post parcel with your return.
Please note that the return label pricing is different from our standard shipping rate
To return your product, please mail it to: 4578 Main Street, Vancouver BC V5V 3R5 or return the items to our shop in person.
Final Sale & Non-returnable Items
Special order merchandise or any item indicated on the website as non-returnable is as such.
Refunds & Credits
Once we receive and inspect your item(s), we will credit your account. Please allow up to 10 business days for a credit to appear on your account from received date. In most cases, we will issue your refund in the same way you made the original purchase.

For Returns, Refunds or Exchanges please email customerservice@divingsports.com