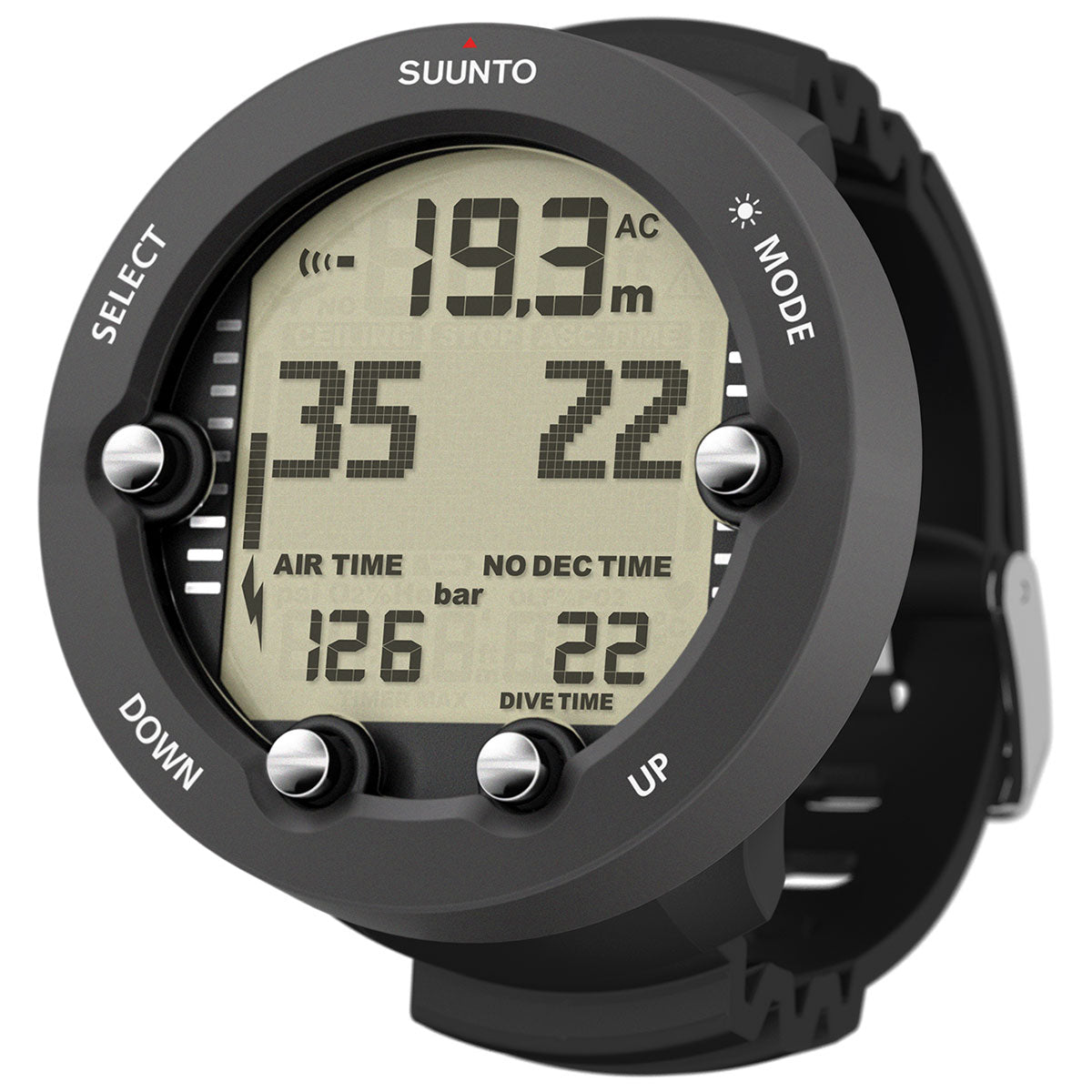 Suunto Suunto Vyper Novo Graphite
Integrating all of the same great features you already expect out of the original Vyper Novo, Suunto's Vyper Novo Light is a pared down version that comes nitrox and free-dive...
Pre-Order
If you are looking for an item that we do not have in stock, we can Pre-order it for you from the manufacturer. Shipping Usually takes 4 to 6 business days. Special orders can be exchanged but not refundable.
Flat Rate Shipping
Shipping in Canada is $15 flat rate. No surcharges and no more to pay!
Estimated to be delivered within 5 business days
30 Days Retun Policy
Learn More.
Integrating all of the same great features you already expect out of the original Vyper Novo, Suunto's Vyper Novo Light is a pared down version that comes nitrox and free-dive ready. Suunto subtracted the boot and USB to offer the Vyper Novo at a lower price point than the original, but divers can still expect the same tough, utility-focused performance. When you're ready to take diving to the next level, Suunto Vyper Novo Light is the perfect new dive buddy to take along. Super-solid and nitrox-capable, it's packed with advanced features that open up new possibilities for exploring the depths, including optional wireless air integration, a digital compass, and gas switching. Just like you, it's ready for anything. The Vyper Novo Light Dive Computer, by Suunto, is the next generation of wireless air integration and computer technology . It allows you to monitor your tank pressure and air consumption from your wrist or your console; you choose the location. Its 3-D compass will quickly become your new best friend; its ability to give a true reading, even at a 45 Degree angle, will make keeping your heading easier than ever if you use enriched air, you can program the Vyper Novo Light for 3 gas mixtures in 1% increments for nitrox mixtures (21-99% oxygen).

The Vyper Novo Light uses the Suunto Deep Stop RGBM algorithm that offers continuous decompression reading and offers an optimal ascent time. The goal of Suunto is to keep you safe; with that in mind, they included the deep stop option as part of the Vyper Novo. The deep stop option includes additional stops between the diver's maximum depth and ceiling to allow divers to off gas safely while making an ascent. The computer has approximately 60 hour of diving logbook memory.

The Viper Novo Light provides audible alarms and notifications for dive time, maximum depth, tank pressure (optional), high pO2, fast ascents, decompression ceiling violations, CNS/OUT (OLF) 80%/100% and switch gas (better gas is available). The Viper Novo Light has a back lite display which makes seeing your dive data easy during night and day dives. Viper Novo provides a depth display to 330' (100m), its clock can be set with a 12 or-24-hour format, provides temperature reading above and below the surface to 1.5 Degree F (1 Degree C) accuracy and is altitude adjustable up to 10,000' (3,000m). The computer can be programed for Nitrox mixtures from 21% to 99% oxygen and displays oxygen partial pressures from 17.4 psi to 23.2 psi (1.2 to 1.6 bars). The Viper Novo Light is powered by a user replaceable 3-volt CR2450 lithium ion battery. Note:Although Suunto computers have user replaceable batteries, Suunto recommends that battery replacement be done by an authorized Suunto dealer. The Viper Novo has an enlarged segment matrix screen, excellent contrast and information with bigger and clearer digits for depth, no-decompression etc., and a new 4 button interface for easier more intuitive diver use. The Computer can be set for imperial (feet) or metric (meter) measurements. The Vyper Novo has multiple dive modes including Air, Nitrox (up to 3 mixtures), Gauge, and Free Dive. Computer comes with a quick guide, display shield, warranty leaflet, safety leaflet, and Suunto logo sticker.
Vyper Novo Wrist Computer:
Algorithm: Bruce R. Wienke, BS, MS & PhD, Reduced Gradient Bubble Model (RGBM)
Operating Modes: Air, Nitrox, Gauge & Free Dive
Programmable for 21% to 99% Oxygen Mixtures
Displays Oxygen Partial Pressures from 17.4 psi to 23.2 psi (1.2 to 1.6 bars)
Altitude Adjustable Up to 10,000' (3,000m)
Maximum Depth Display: 330' (100m)
12 or 24-Hour Clock Format
Temperature Gauge to 1.5 Degree F (1 Degree C) Accuracy
Imperial/Metric Programmable
Decompression Stop Data
Audible Alarms
Approx. 60 Hour Profile & Logbook
User-Replaceable 3 Volt CR2450 Lithium-Ion Battery
Note:
Although Suunto Computers Have User Replaceable Batteries, Suunto Recommends Battery Replacement Be-Done-By-An Authorized Suunto Dealer.
Flooding of Computer Due to Improper Battery Installation by Consumer-Is-Not Covered by Suunto Warranty.
Back Lite Display, Easy to Read-In Low Light & Night Conditions
3-D Compass w/45 Degree Tilt Angle
Optional Air Integration (see SKU: SQTVTCT)
Enlarged Segment Matrix Screen
Excellent Contrast & Information w/Bigger/Clearer Digits
Easier More Intuitive Diver Use
PC Compatible
Quick Guide
SHIPPING POLICY
Shipping in Canada is $15 flat rate. No surcharges and no more to pay! Order anytime and as many products as you want for same day shipping on orders placed before 2pm PST.
Shipping fees to the Continental United States will be calculated at checkout. Extra shipping fees may apply when shipping to Alaska and Hawaii.
We ship 5 days a week, Monday through Friday. If your order is placed before 2 pm PST, your order will be shipped the same day. Order placed after 2pm will be shipped the next operating day. Order placed on Saturday, Sunday or on holidays will be shipped next operating day.
We always ship with Canada post using the expedited service. Delivery time depends on your location. Estimated delivery time will be available upon receiving your tracking information.
If you would like to upgrade the shipping service, additional postage costs will be applied. Please contact us with your request when placing your order.
Let us know if you need to receive your order by a certain date and we will let you know if we are able to accommodate your request.
If you have any questions or would like to discuss your order further, please contact our customer service at customerservice@divingsports.com or by calling +1 604 694-1886.
Return Policy
We care about your satisfaction. That is why returns to Diving Sports are easy! If you are dissatisfied with your purchase for any reason, you may return it to Diving Sports within 30 days of the purchase date, subject to the conditions and exclusions below.

If all conditions are not met, Diving Sports reserves the right to refuse the return or to charge a minimum 15% restocking fee.
All returned items must be in new condition, in their original unaltered box (including an intact PLU code) and must include all packing material, blank warranty cards, manuals and accessories. We can only refund or exchange products that have not been in contact with water or lube and are undamaged. All wetsuits that have been in contact with water or lube will not be accepted for a return.
Diving Sports is not responsible for mis-handling of products or ill-treatment of goods.
Diving Sports is not responsible for personal data or items left in returned merchandise.
Diving Sports is not responsible for any consequential or incidental damage resulting from the use of any merchandise bought from us including lost or stolen equipment.
Claims for missing items or items damaged in transit must be received within 7 business days of receipt of merchandise.
Securely pack all items that you would like to be returned.
All shipping charges are the responsibility of the customer if the return is not a result of our error.
If the return is a result of our error (you received an incorrect or defective item, etc.), please send us an email explaining the situation and ask for a return label.
If your return is not the result of our error, we can still provide a return label and the shipping cost of that returned item will be deducted from your refund.
Please note that the return label pricing is different from our standard shipping rate
Please include the following with your package:
All items must be returned in original/unused condition.
Unless an item is defective, if you would like an exchange, our standard freight charges apply to send you the exchange, unless you provide a post parcel with your return.
Please note that the return label pricing is different from our standard shipping rate
To return your product, please mail it to: 4578 Main Street, Vancouver BC V5V 3R5 or return the items to our shop in person.
Final Sale & Non-returnable Items
Special order merchandise or any item indicated on the website as non-returnable is as such.
Refunds & Credits
Once we receive and inspect your item(s), we will credit your account. Please allow up to 10 business days for a credit to appear on your account from received date. In most cases, we will issue your refund in the same way you made the original purchase.

For Returns, Refunds or Exchanges please email customerservice@divingsports.com