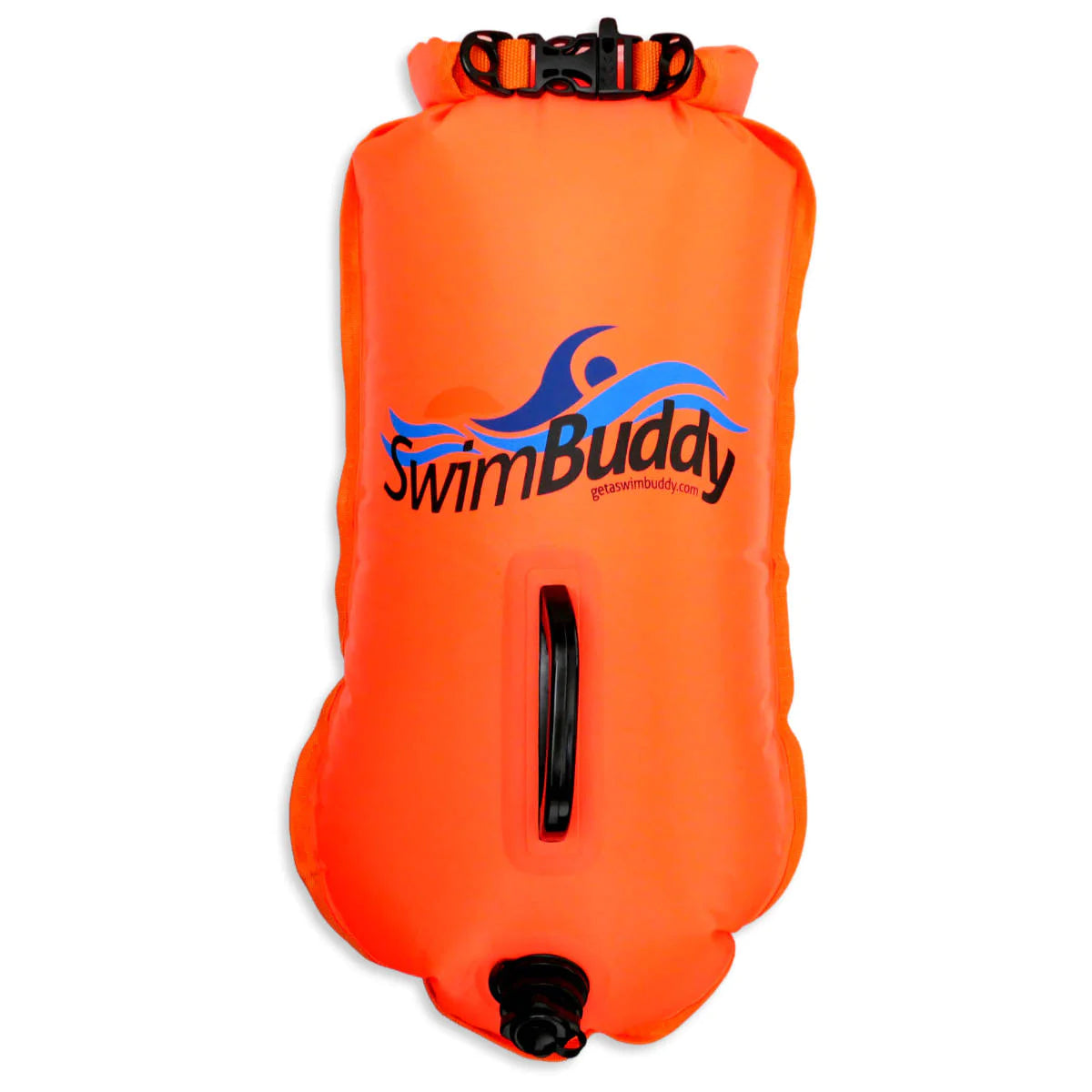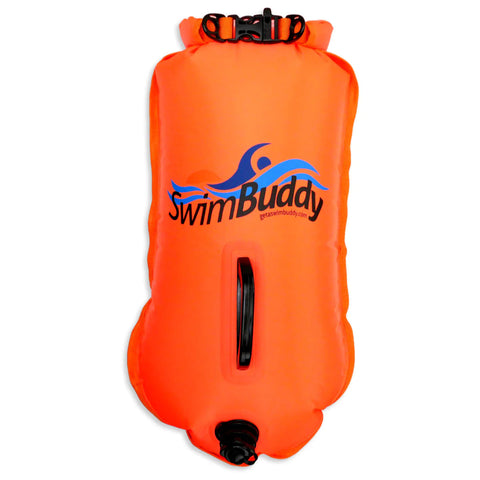 Open Water Swim Buddy Touring Orange
Like the Racer model, this larger Swim Buddy model also comes in several fluorescent, high-visibility color options that will not fade over time, and is designed for competent swimmers who...
Pre-Order
If you are looking for an item that we do not have in stock, we can Pre-order it for you from the manufacturer. Shipping Usually takes 4 to 6 business days. Special orders can be exchanged but not refundable.
Flat Rate Shipping
Shipping in Canada is $15 flat rate. No surcharges and no more to pay!
Estimated to be delivered within 5 business days
30 Days Retun Policy
Learn More.
Like the Racer model, this larger Swim Buddy model also comes in several fluorescent, high-visibility color options that will not fade over time, and is designed for competent swimmers who wish to be seen or followed when swimming in any open water setting. The premium Touring model is made with a composite 190T Nylon/PVC material that is ruggedly durable, with heat-sealed, factory-tested, double-stitched seams and a second-generation screw-on valve system that has a limited lifetime guarantee. The 28-liter Touring also has a third compartment—a central dry bag that can safely carry your kit with you while you swim, whether it is your flipflops, sunglasses, a change of clothes, a towel, your keys, your wallet, or even some snacks or drinks—able to handle as much as 9 kg worth of stuff! And if you use our sealable Cell Buddy, you can safely carry your small electronics such as your cell phone as well.  Since you can carry your stuff with you, you know that your valuables are secure; and you can see why we named it the "Touring" model, since it can easily allow a point-to-point swim, whether to your favorite boat, dock, or unexplored island.
When uninflated, the Touring lies almost completely flat except for a handle and the air valves on either side, and measures approximately 72cm x 36 cm (25" x 14").  The dry bag opens at one end for storage prior to the air chambers being filled, and then is sealed with repeated folding of the end of the bag, after which it is locked shut, also becoming a small air chamber.  Then, with just a few puffs to each of the main air chambers, the Touring becomes about 10" thick, and easily able to bob on the top of the water, even when the dry back is full. Although the Swim Buddy cannot officially be considered a lifesaving device, its floatation effect is significant enough to easily allow any swimmer to keep their head above water when resting on it, even in the unlikely event of one air chamber failing.
Like the Racer, the Touring comes with an adjustable (28"- 48") waist strap, and a 16" tether that attaches with a loop to the waist belt at one end, and the Touring's handle at the other.  This tether has been calibrated to be long enough to allow the Touring to float behind your knees when you are swimming, just out of reach of the finish of your arm stroke, and yet far enough down to interfere with your kick. And because of the bow wave created with swimming, the resulting eddy that is created behind an open water swimmer will actually push the Touring model forward, translating to a negligible drag.  In short, swimmers will not notice that they have a Swim Buddy following them, even if it loaded with stuff!
The Touring model is equally effective in fresh and salt water. When your swim is over, give it a quick freshwater rinse, and then deflate with main air chambers by opening the screw-capped valves on either side of the Touring before accessing whatever you may have stored in the dry bag. Once dried, the Touring can be folded and stored easily, to give many years of reliable use.
Inflated dimensions: L: 76cm x W: 40cm (30in x 15.75in)
Capacity: 28L
SHIPPING POLICY
Shipping in Canada is $15 flat rate. No surcharges and no more to pay! Order anytime and as many products as you want for same day shipping on orders placed before 2pm PST.
Shipping fees to the Continental United States will be calculated at checkout. Extra shipping fees may apply when shipping to Alaska and Hawaii.
We ship 5 days a week, Monday through Friday. If your order is placed before 2 pm PST, your order will be shipped the same day. Order placed after 2pm will be shipped the next operating day. Order placed on Saturday, Sunday or on holidays will be shipped next operating day.
We always ship with Canada post using the expedited service. Delivery time depends on your location. Estimated delivery time will be available upon receiving your tracking information.
If you would like to upgrade the shipping service, additional postage costs will be applied. Please contact us with your request when placing your order.
Let us know if you need to receive your order by a certain date and we will let you know if we are able to accommodate your request.
If you have any questions or would like to discuss your order further, please contact our customer service at customerservice@divingsports.com or by calling +1 604 694-1886.
Return Policy
We care about your satisfaction. That is why returns to Diving Sports are easy! If you are dissatisfied with your purchase for any reason, you may return it to Diving Sports within 30 days of the purchase date, subject to the conditions and exclusions below.

If all conditions are not met, Diving Sports reserves the right to refuse the return or to charge a minimum 15% restocking fee.
All returned items must be in new condition, in their original unaltered box (including an intact PLU code) and must include all packing material, blank warranty cards, manuals and accessories. We can only refund or exchange products that have not been in contact with water or lube and are undamaged. All wetsuits that have been in contact with water or lube will not be accepted for a return.
Diving Sports is not responsible for mis-handling of products or ill-treatment of goods.
Diving Sports is not responsible for personal data or items left in returned merchandise.
Diving Sports is not responsible for any consequential or incidental damage resulting from the use of any merchandise bought from us including lost or stolen equipment.
Claims for missing items or items damaged in transit must be received within 7 business days of receipt of merchandise.
Securely pack all items that you would like to be returned.
All shipping charges are the responsibility of the customer if the return is not a result of our error.
If the return is a result of our error (you received an incorrect or defective item, etc.), please send us an email explaining the situation and ask for a return label.
If your return is not the result of our error, we can still provide a return label and the shipping cost of that returned item will be deducted from your refund.
Please note that the return label pricing is different from our standard shipping rate
Please include the following with your package:
All items must be returned in original/unused condition.
Unless an item is defective, if you would like an exchange, our standard freight charges apply to send you the exchange, unless you provide a post parcel with your return.
Please note that the return label pricing is different from our standard shipping rate
To return your product, please mail it to: 4578 Main Street, Vancouver BC V5V 3R5 or return the items to our shop in person.
Final Sale & Non-returnable Items
Special order merchandise or any item indicated on the website as non-returnable is as such.
Refunds & Credits
Once we receive and inspect your item(s), we will credit your account. Please allow up to 10 business days for a credit to appear on your account from received date. In most cases, we will issue your refund in the same way you made the original purchase.

For Returns, Refunds or Exchanges please email customerservice@divingsports.com