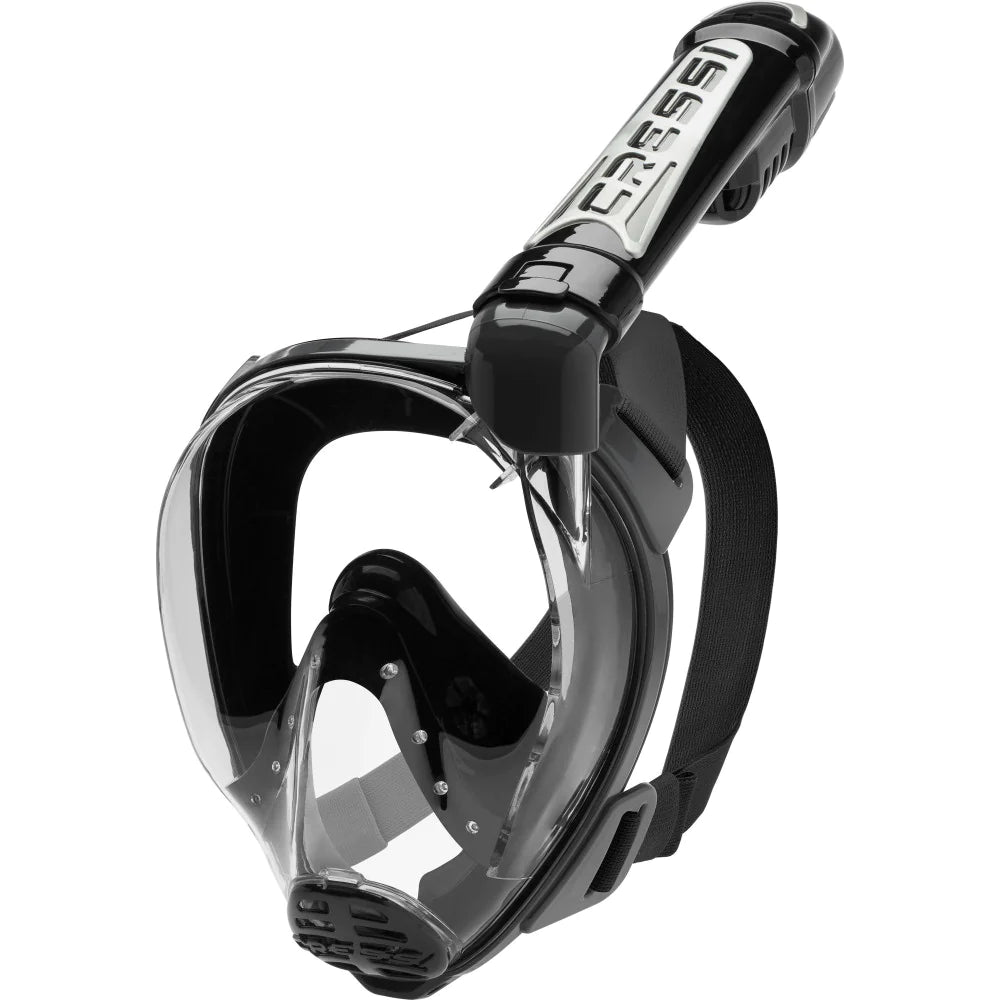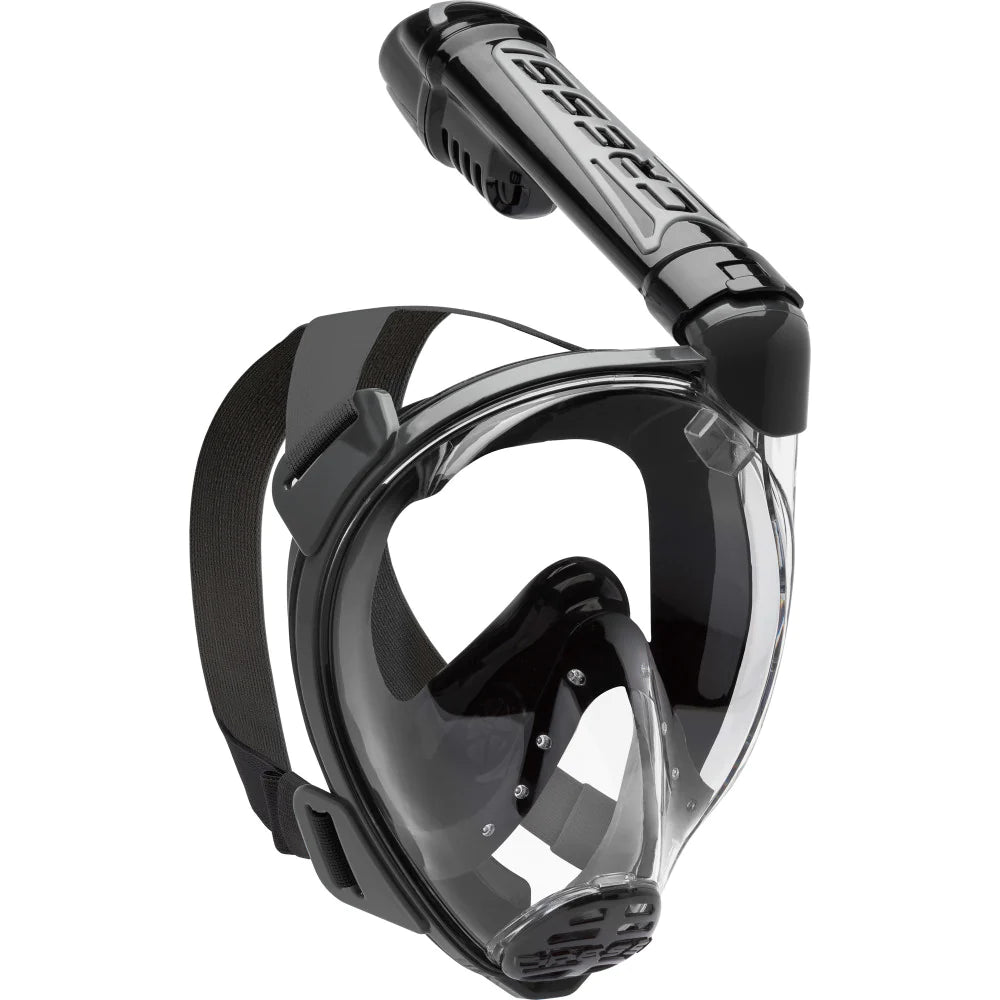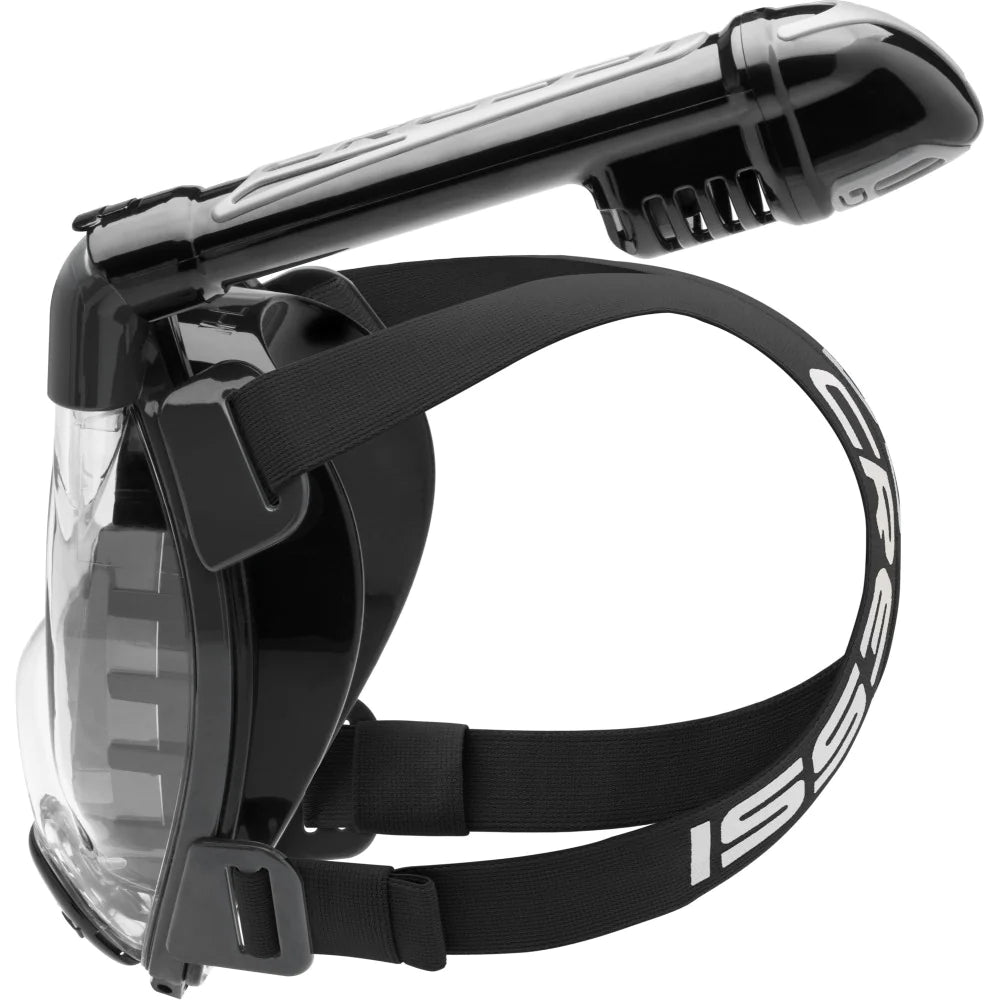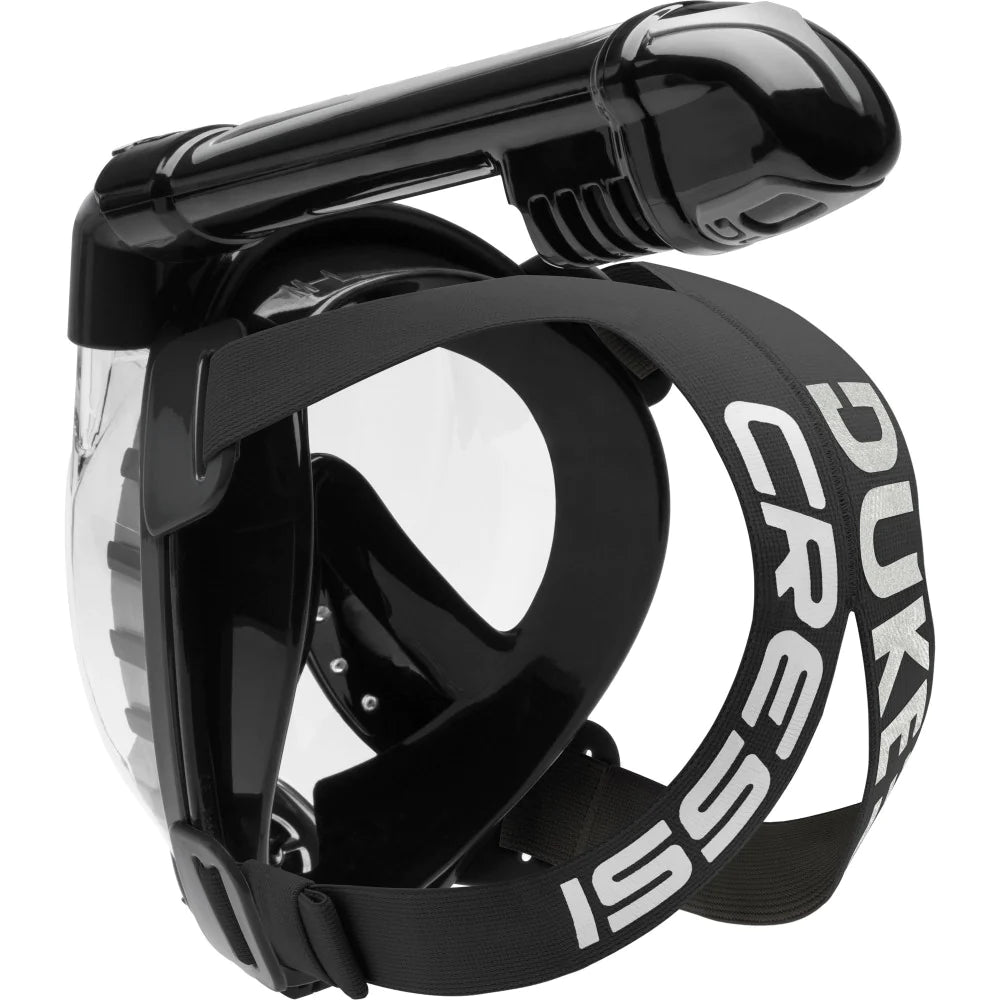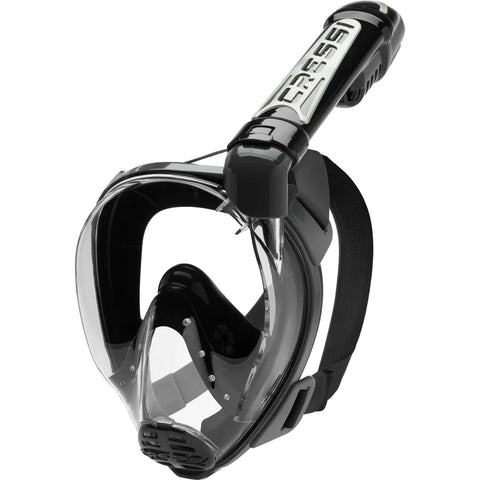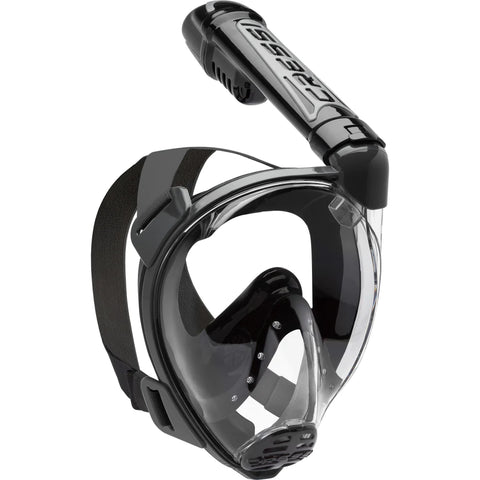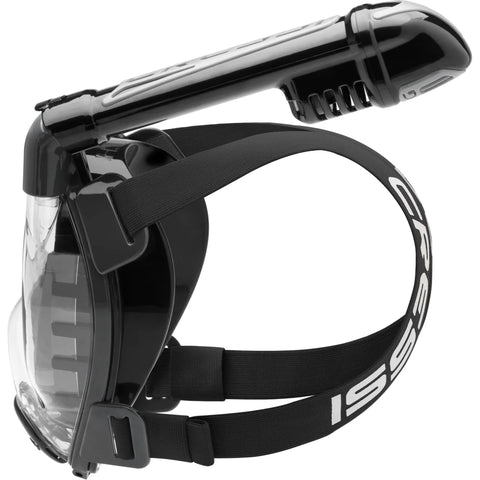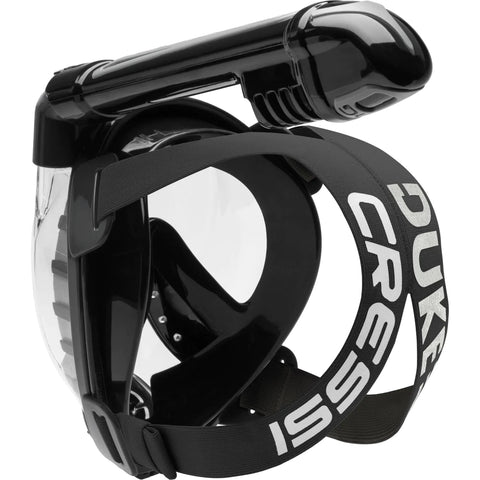 Cressi Duke Dry Black / Black
The Duke is a full-face mask (FFM) and it is designed to give the user the opportunity to breathe easily. Obviously, it's not the first of its type. In fact, we...
Pre-Order
If you are looking for an item that we do not have in stock, we can Pre-order it for you from the manufacturer. Shipping Usually takes 4 to 6 business days. Special orders can be exchanged but not refundable.
Flat Rate Shipping
Shipping in Canada is $15 flat rate. No surcharges and no more to pay!
Estimated to be delivered within 5 business days
30 Days Retun Policy
Learn More.
The Duke is a full-face mask (FFM) and it is designed to give the user the opportunity to breathe easily. Obviously,
it's not the first of its type
. In fact, we could say that
 

Cressi's Medusa mask was the first FFM

 
but it didn't separate the breathing chamber from the vision chamber.
Cressi owned a patent for the Medusa mask.
Our new system of breathing, that we have designed are patenting, because it doesn't use the old system of breathing through a central tube system, so it doesn't require the need for forced breath to travel a longer distance and open more than one valve.What else makes our mask different from all the others? And how does the Duke allow the diver to breathe freely and also expel CO2 build-up and not fog up the vision chamber?
These three features put Duke in a class of its own:
The advantage of lateral tube position.
An excellent Anti-fogging effect.
A minimal build-up of residual CO2.
The reason why we have chosen to
position the tube laterally

 
is that it is the shortest route possible for airflow with minimal effort.
And this is currently under patent.
Its
 

left-side tube is divided into two
before entering the two separate chambers.
One is connected to the breathing chamber
and
the other is connected to the vision chamber.
This advantage is enhanced by the fact that neither the breathing chamber nor the tube have any valves to impede the user's breath.
What's more, the extraction chamber has an enlarged volume in order to allow for optimal CO2 extraction. Something interesting to note is, this airflow system in Duke produces far less co2 build-up than a safety gas mask.We had the opportunity to test it in the laboratory of Milan polytechnic's engineering department where the results were beyond our expectation. The second independent tube. It's connected to the vision chamber and extracts moisture and warm air that builds up in this chamber, completely separate from the breathing chamber. Duke has a deflector, which is also under patent, which maximizes the extraction of warm air produced by the face when the mask is worn, and it is designed to work like a chimney effect forcing air circulation away from the lens. Finally, Duke has large outlet valves at its base, to drain the mask quickly& easily if it fills up with water. One large outlet valve below the mouth which has nothing to do with the breathing system.
Features
30% larger viewing area, snorkelers can see all the underwater world has to offer without feeling claustrophobic
Dry snorkel keeps water out, while a specialized deflector maximizes air circulation and eliminates fogging
The valve's design gives the user effortless and natural breathing, with a wide breathing area around the nose and mouth.
Water draining valves safely remove any water that may enter the mask.
This mask is designed for surface use only and should not be used at depth.
Face skirt is made of soft hypoallergenic silicone for comfort and an excellent seal
Two x-cross straps are easy to adjust for a perfect adaption to your head
Frame and lens are made of polycarbonate material.
Made in two sizes to ensure proper fitting.
SHIPPING POLICY
Shipping in Canada is $15 flat rate. No surcharges and no more to pay! Order anytime and as many products as you want for same day shipping on orders placed before 2pm PST.
Shipping fees to the Continental United States will be calculated at checkout. Extra shipping fees may apply when shipping to Alaska and Hawaii.
We ship 5 days a week, Monday through Friday. If your order is placed before 2 pm PST, your order will be shipped the same day. Order placed after 2pm will be shipped the next operating day. Order placed on Saturday, Sunday or on holidays will be shipped next operating day.
We always ship with Canada post using the expedited service. Delivery time depends on your location. Estimated delivery time will be available upon receiving your tracking information.
If you would like to upgrade the shipping service, additional postage costs will be applied. Please contact us with your request when placing your order.
Let us know if you need to receive your order by a certain date and we will let you know if we are able to accommodate your request.
If you have any questions or would like to discuss your order further, please contact our customer service at customerservice@divingsports.com or by calling +1 604 694-1886.
Return Policy
We care about your satisfaction. That is why returns to Diving Sports are easy! If you are dissatisfied with your purchase for any reason, you may return it to Diving Sports within 30 days of the purchase date, subject to the conditions and exclusions below.

If all conditions are not met, Diving Sports reserves the right to refuse the return or to charge a minimum 15% restocking fee.
All returned items must be in new condition, in their original unaltered box (including an intact PLU code) and must include all packing material, blank warranty cards, manuals and accessories. We can only refund or exchange products that have not been in contact with water or lube and are undamaged. All wetsuits that have been in contact with water or lube will not be accepted for a return.
Diving Sports is not responsible for mis-handling of products or ill-treatment of goods.
Diving Sports is not responsible for personal data or items left in returned merchandise.
Diving Sports is not responsible for any consequential or incidental damage resulting from the use of any merchandise bought from us including lost or stolen equipment.
Claims for missing items or items damaged in transit must be received within 7 business days of receipt of merchandise.
Securely pack all items that you would like to be returned.
All shipping charges are the responsibility of the customer if the return is not a result of our error.
If the return is a result of our error (you received an incorrect or defective item, etc.), please send us an email explaining the situation and ask for a return label.
If your return is not the result of our error, we can still provide a return label and the shipping cost of that returned item will be deducted from your refund.
Please note that the return label pricing is different from our standard shipping rate
Please include the following with your package:
All items must be returned in original/unused condition.
Unless an item is defective, if you would like an exchange, our standard freight charges apply to send you the exchange, unless you provide a post parcel with your return.
Please note that the return label pricing is different from our standard shipping rate
To return your product, please mail it to: 4578 Main Street, Vancouver BC V5V 3R5 or return the items to our shop in person.
Final Sale & Non-returnable Items
Special order merchandise or any item indicated on the website as non-returnable is as such.
Refunds & Credits
Once we receive and inspect your item(s), we will credit your account. Please allow up to 10 business days for a credit to appear on your account from received date. In most cases, we will issue your refund in the same way you made the original purchase.

For Returns, Refunds or Exchanges please email customerservice@divingsports.com