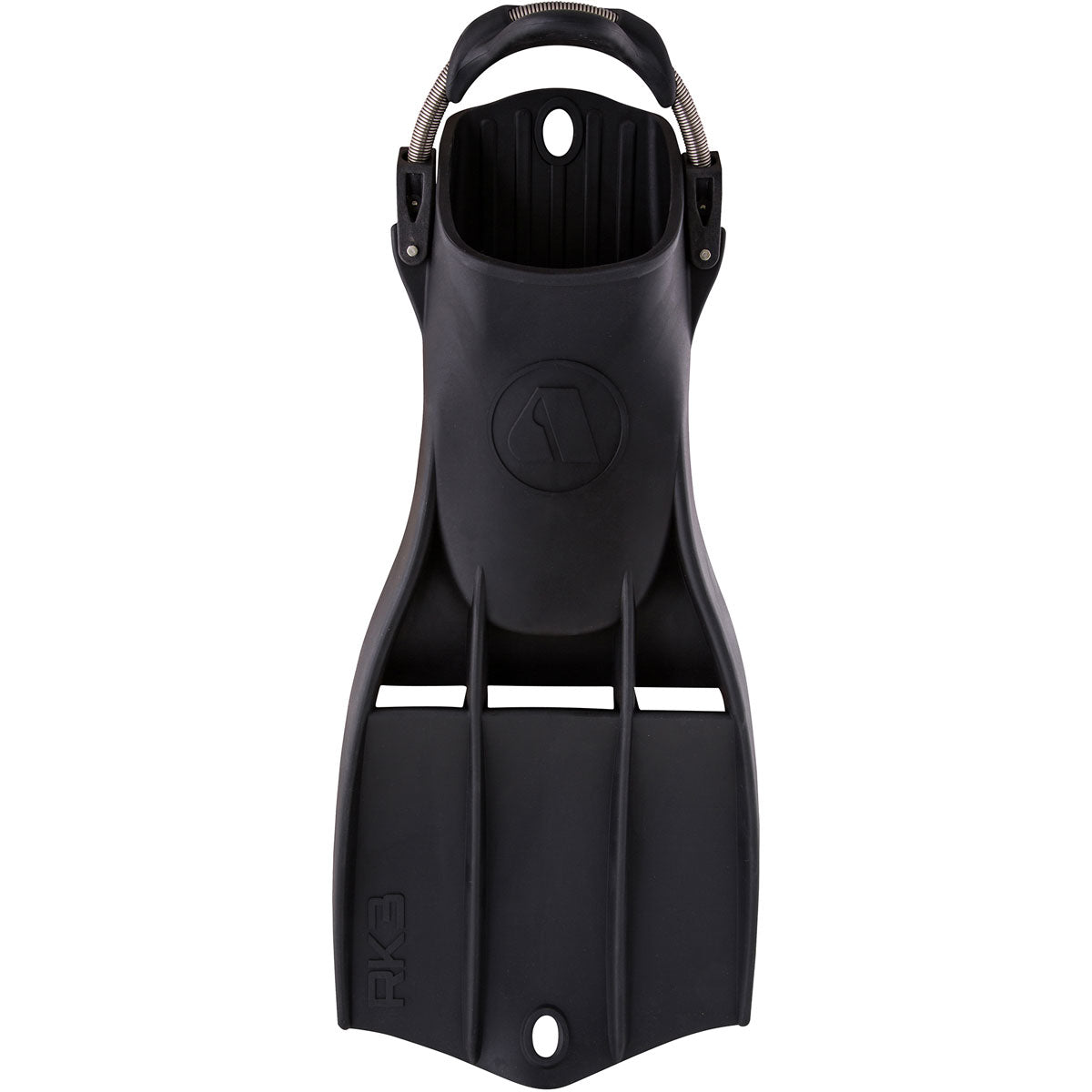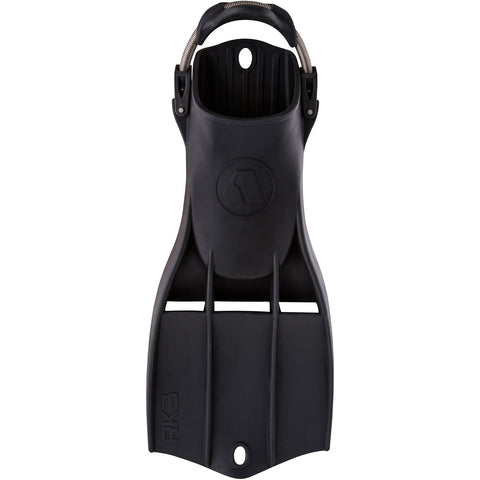 The RK3 HD fin is the latest in the RK3 range. It is made from a higher density material than the standard RK3, which makes the fin stiffer and heavier...
Pre-Order
If you are looking for an item that we do not have in stock, we can Pre-order it for you from the manufacturer. Shipping Usually takes 4 to 6 business days. Special orders can be exchanged but not refundable.
Flat Rate Shipping
Shipping in Canada is $15 flat rate. No surcharges and no more to pay!
Estimated to be delivered within 5 business days
30 Days Retun Policy
Learn More.
The RK3 HD fin is the latest in the RK3 range. It is made from a higher density material than the standard RK3, which makes the fin stiffer and heavier and is therefore the ideal fin for dry suit diving. The new, heavier compound makes it negatively buoyant and produces a stiffer blade, providing additional power in heavy currents or surf. Designed in collaboration with the US military and renowned for outstanding performance and reliability, the Apeks RK3 HD is a rugged thermoplastic rubber fin featuring an over-sized foot pocket to accommodate dry suit boots and a spring strap for easy donning and doffing. The RK3 is available in three sizes of medium, large and super. Apeks didn't give the RK3 fin a shoe size range as this can be very misleading. The environment that an RK3 is used in will tend to dictate the size of fin that you need, for example do you dive in a warm environment wearing wetsuit boots, or are you walking across pebbled beaches and wearing a dry suit and rigid dry boots? Both forms of footwear may be a size 9, but will take up different amounts of space in the fin foot pocket. Therefore, Apeks recommend that you visit your local dive store and try the fins on with your own footwear, just to ensure that you're getting the right fit for your style of diving.

Based on one of the first vented rubber fins sold in North America and popular among military and professional divers. Compact, and ultra-rugged for use in harsh environments. Improved foot pocket with spring straps for ease of use with cold hands or thick gloves. The design has been the standard gear issue fin for military, special ops, coast guard and public safety divers for decades. Short wide blade provides maximum forward thrust while maintaining great maneuverability. Vented blade design reduces resistance on the upstroke and enhances thrust on the downstroke. The vents also eliminate vortexes that can occur along the back of the blade much in the same way split fins eliminate the vortex.

The blade material designed to hold up in the toughest environments, temperatures and abuse. Two large grommet holes designed to fit most carabiners for easy storage of the fins while accessing the dive site. Spring straps as standard, and custom designed buckle holds spring straps in optimum position. Simple push pin design allows simple replacement of springs if necessary. Fins are available in multiple colors. Fin dimensions and weights are as follows: Medium has a blade length of 19.3" (49cm) with an 8.66" (22cm) foot pocket depth, 3.54" (9cm) width and weigh 38.8 oz (1.1 kg). Large has a blade length of 21.46" (54.5cm) with a 10" (25.5cm) foot pocket depth, 3.74" (9.5cm) width and weigh 49.4 oz (1.4 kg). Super has a blade length of 22.4" (57cm) with a 10.63" (27cm) foot pocket depth, 3.94" (10cm) width and weigh 50.8 oz (1.44 kg).

SHIPPING POLICY
Shipping in Canada is $15 flat rate. No surcharges and no more to pay! Order anytime and as many products as you want for same day shipping on orders placed before 2pm PST.
Shipping fees to the Continental United States will be calculated at checkout. Extra shipping fees may apply when shipping to Alaska and Hawaii.
We ship 5 days a week, Monday through Friday. If your order is placed before 2 pm PST, your order will be shipped the same day. Order placed after 2pm will be shipped the next operating day. Order placed on Saturday, Sunday or on holidays will be shipped next operating day.
We always ship with Canada post using the expedited service. Delivery time depends on your location. Estimated delivery time will be available upon receiving your tracking information.
If you would like to upgrade the shipping service, additional postage costs will be applied. Please contact us with your request when placing your order.
Let us know if you need to receive your order by a certain date and we will let you know if we are able to accommodate your request.
If you have any questions or would like to discuss your order further, please contact our customer service at customerservice@divingsports.com or by calling +1 604 694-1886.
Return Policy
We care about your satisfaction. That is why returns to Diving Sports are easy! If you are dissatisfied with your purchase for any reason, you may return it to Diving Sports within 30 days of the purchase date, subject to the conditions and exclusions below.

If all conditions are not met, Diving Sports reserves the right to refuse the return or to charge a minimum 15% restocking fee.
All returned items must be in new condition, in their original unaltered box (including an intact PLU code) and must include all packing material, blank warranty cards, manuals and accessories. We can only refund or exchange products that have not been in contact with water or lube and are undamaged. All wetsuits that have been in contact with water or lube will not be accepted for a return.
Diving Sports is not responsible for mis-handling of products or ill-treatment of goods.
Diving Sports is not responsible for personal data or items left in returned merchandise.
Diving Sports is not responsible for any consequential or incidental damage resulting from the use of any merchandise bought from us including lost or stolen equipment.
Claims for missing items or items damaged in transit must be received within 7 business days of receipt of merchandise.
Securely pack all items that you would like to be returned.
All shipping charges are the responsibility of the customer if the return is not a result of our error.
If the return is a result of our error (you received an incorrect or defective item, etc.), please send us an email explaining the situation and ask for a return label.
If your return is not the result of our error, we can still provide a return label and the shipping cost of that returned item will be deducted from your refund.
Please note that the return label pricing is different from our standard shipping rate
Please include the following with your package:
All items must be returned in original/unused condition.
Unless an item is defective, if you would like an exchange, our standard freight charges apply to send you the exchange, unless you provide a post parcel with your return.
Please note that the return label pricing is different from our standard shipping rate
To return your product, please mail it to: 4578 Main Street, Vancouver BC V5V 3R5 or return the items to our shop in person.
Final Sale & Non-returnable Items
Special order merchandise or any item indicated on the website as non-returnable is as such.
Refunds & Credits
Once we receive and inspect your item(s), we will credit your account. Please allow up to 10 business days for a credit to appear on your account from received date. In most cases, we will issue your refund in the same way you made the original purchase.

For Returns, Refunds or Exchanges please email customerservice@divingsports.com
Size Chart